Presenter: Steve Barnes, Director of Science and Compliance, AquaStar Pool Products
Summary
The Virginia Graeme Baker Act (VGBA) standard for drain covers changed on May 24, 2021, which means new information is available for public health & building officials, CPOs, and all pool professionals. The standard update will be implemented as a rolling change, and as new drain covers arrive, installers are receiving more information with them. Join this session to get up to speed on what's changed, discuss how to implement the standard, and take advantage of the opportunity to have questions answered by the Chairman of the drain cover standard writing committee.
Learning Objectives
Examine the recently enacted revision to the VGBA standard
Discuss how the new standard impacts drain cover flow ratings that are now based on pipe size
Understand why using maximum pump flow may not be a compliance option under the new VGBA standard
Examine how the standard change in drain covers impacts both installed product and current inventory in the market
Presenter Bio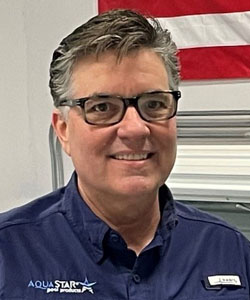 Steve Barnes is the Director of Science and Compliance for AquaStar Pool Products. He is the Co-Chairman of PHTA Technical Committee, Chairman of ANSI/APSP/ICC-16 2017 the Federal VGB Pool & Spa Safety Act drain cover standard, and past Chairman of the ANSI/APSP/ICC-15 Standard for Residential Swimming Pool Energy Efficiency. He is also a voting member on the ICC Swimming Pool and Spa Code Committee and all versions ANSI/APSP/ICC-7 Standard for Suction Entrapment Avoidance. Steve has 37 years of experience in the pool industry, dating back to 1984 where he began as a hydraulics research and development lab technician, moving into lab management, new product development, and risk management. Steve's career focus is on helping pool contractors make pool ownership more convenient, cost effective, and safe.