Presenters: Shawn DeRosa and Joey Rusnak
Summary
A vibrant aquatics program is one where team members are inspired and empowered to deliver high-quality programs and services. This takes a commitment to identifying, coaching and mentoring key team leaders who then can influence their peers and encourage a culture both of safety and success. Join us as we explore proven strategies to engage your team and elevate your program to the next level.
Identify effective methods of building and engaging teams
List three ways to improve training through the use of peer mentors
Learn how cultivating effective team leaders improves guest service, emergency response and daily operations
Presenter Bios
Shawn DeRosa the former Northeast Regional Director for the National Recreation and Park Association, is very familiar with issues pertaining to park and recreation agencies. Before joining NRPA staff, Shawn worked as the Aquatics Program Coordinator for the Massachusetts State Forrest and Park System (now known as the Department of Conservation and Recreation). While working for the state parks system, Shawn oversaw 66 aquatic facilities including 38 inland beaches, 6 ocean beaches, and 20 swimming pools. For five years, Shawn was a member of the Adjunct Faculty of Salem State College where he taught courses for the Department of Sport, Fitness and Leisure Studies - one of the few colleges in the nation which offers a specialized concentration in Aquatic Administration. Shawn brings over 30 years' experience in aquatics as a lifeguard, instructor trainer, Certified Pool Operator, Aquatic Facility Operator Instructor, Safe Swimming Beaches Instructor and aquatics director. He also served for three years on the National Recreation and Park Association's Board of Directors for the Aquatic Facility Operator program where Shawn helped guide the NRPA Aquatic Branch in strengthening the AFO program and in developing the Aquatic Facility Technician program. In November 2009, Shawn DeRosa was selected to be a member of the American National Red Cross "Sounding Board" for the American Red Cross Lifeguarding Program. Retained by Krames/Staywell as a Subject Matter Expert in the development of the Red Cross training program, Shawn was instrumental in developing and reviewing the 2012 Lifeguarding program materials. A member of the Technical Advisory Group for the 2000 revisions to American Red Cross Lifeguarding Program, Shawn helped edit and author the Lifeguard Training text and develop related program materials. In 2002, Shawn served as an external reviewer and technical consultant for the latest revisions to the Red Cross CPR for the Professional Rescuer program. In 2003 Shawn accepted the invitation to serve as a member of the American Red Cross Lifeguard Management Development Team, helping to develop the new Lifeguard Management program.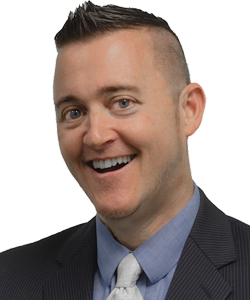 Joey Rusnak began his recreational career in the aquatics industry in his teen years and studied hospitality management and started working in hotels. He quickly realized his heart was in recreation and began a full-time supervisory role running two aquatic operations, while returning to school to study Recreation and Leisure Services. Over the course of his career he has received numerous awards and recognition for his work, innovation, and leadership. Joey has had the privilege to lead many teams in various recreation departments for indoor/outdoor/waterfront aquatic operations, general community programs, community development, fitness, camps, preschool, skating and sports.
Prior to Lifeguard Authority, for 10 years Joey owned and operated his own training company that provided first aid and aquatic training. Joey's other roles include Chief Auditor with the Lifesaving Society, and numerous volunteer efforts with non-profit and charitable organizations, such as Parks and Recreation Ontario, where he served as the past Chair of Canada's largest aquatic educational conference. Joey is a popular presenter across North America educating and inspiring individuals to do better. Joey seeks new and innovative ways to engage communities and teams, and to prevent and eliminate drowning. His personal mantra is connect, collaborate, and contribute.